Step 1 Warming-up /Lead in
Greeting
Show a video clip about The family has children .Then lead in the title.
Step 2 Pre-reading
Ask the following question: "Do you get on with your family? why or why not?".
Show the picture from the book, what are they doing?
Step 3 While-reading
Activity 1: Skimming
Guide the students to skim these passages and match the main idea of each paragraph.
Activity 2: Scanning
Let students read these passages天津家教网again and complete the chart.
Then ask students work in pairs to talk about Sad and Thirteen's problems and Mr. Hunt's advice
.Activity 3: Intensive reading
1. Read these passages again and make a mind map, such as: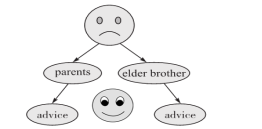 Step 4 Post-reading
Work in groups to have a discussion about "Do you agree or disagree with Mr. Hunt's advice? Why?". Then make a report to the class.
Step 5 Summary
Students summarize and teacher gives some supplements timely. Meanwhile the teacher stress we should communicate with people in the right way.
Step 6 Homework
Please write down your group report about 80 words.